We are open M-Th 10am-7pm and Fr-Sat 10am-3pm.
The Mendon Public Library strengthens our community by:
Developing young people's minds, and helping adults and seniors pursue their interests and dreams;
Serving as a window to the Internet and other current technology;
Connecting the public to our democracy and our heritage;
Enhancing the economy; and
Facilitating regional idea exchange through membership in the Monroe County Library System.
Explore different ways to support our library by the menu to the right or the blog posts below.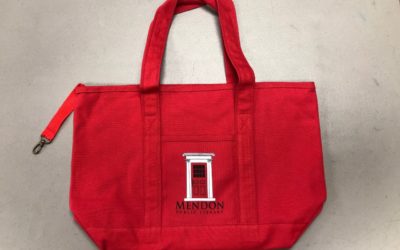 The Friends of the Mendon Public Library now offer beautiful red tote bags available for sale at the library.  These sturdy red bags, priced at $15/each,  are perfect for toting library books and/or gift giving.  Bags are available for purchase at the library during open hours.  Cash and checks...