Use a Very Important Places (VIP) pass to receive a discount at one of Rochester and surrounding area's arts and cultural treasures. Check out a VIP pass for a participating museum or arts organization. Bring the VIP pass to the venue and enjoy discounted admissions or ticket purchases. (Please check individual locations' websites, as venues may apply restrictions to the use of discount passes.)
Click here to view  2023-2024 discount details.
There are some new and some returning participants this year to offer discounts to library patrons. The 2023-2024 participants are:  Charlotte-Genesee Lighthouse , Corning Museum of Glass , Finger Lakes Boating Museum *NEW* , Genesee Country Village and Museum , George Eastman Museum, Geva Theatre *BACK AGAIN* , Herschell Carrousel Factory Museum *NEW* , New York Museum of Transportation , Rochester Museum and Science Center , Rochester Philharmonic Orchestra (RPO) *BACK AGAIN*, Seward House *NEW* , Sonnenberg Gardens & Mansion State Historic Park , Susan B. Anthony Museum and House , Ulysses S. Grant Cottage
Check VIP Pass Availability
You can also check out an Empire Pass for free admission to New York State Parks!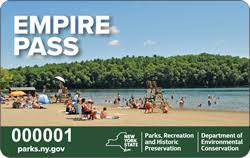 Check Empire Pass availability